Roof Lines of Sports Cars Exuding Sporty Allure
Your Endless Passion for Endless Dynamic Possibilities
STYLE
#MYPASSION
At a Glance 5-min Product Kit
ELEGANCE INHERITED
FUELED BY PASSION
The double kidney grille design is a nod to the BMW flagship Gran Coupe 8 Series' premium design. Together with the iconic new-generation hexagonal LED headlights to instill a dynamic character in the vehicle. Meanwhile, the slender L-shaped taillights create a modern appearance with its use of light and shadow, giving the series a youthful and vivid air.
EYE-CATCHING SPORTINESS
FUELED BY PASSION
The vehicle windows use an elegant frameless design that takes after the BMW designers' insistence on the articulation of lines and contours on four-door sports sedans, such that clean and precise lines are used on the side of the vehicle, while flowing lines extend decisively from the vehicle body to the C Pillar.
VERSATILE SPACE WITH ATTENTION
TO DETAILS FUELED BY PASSION
With an expansive panoramic sunroof that allows natural light to shine into the cabin, the view of the sky is yours to fully enjoy. In a bid to attend to all the details of various lifestyles, the luggage compartment has a capacity of 430 litres, while the rear seatrests can be folded in 40/20/40 arrangement to expand the luggage compartment's storage capacity. The all-new chassis design also provides a wider and more practical vehicle interior.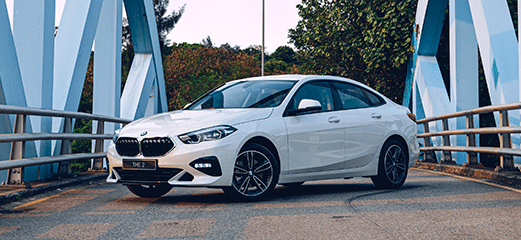 ENDLESS FUN IN COLOUR
FUELED BY PASSION
The driver-centric cockpit design includes an all-new illuminated LED trims design that emits six different ambient lights to create a unique sporty atmosphere, giving the cockpit total control over the sports sedan for the ultimate driving pleasure.
SMART TECHNOLOGY
FUELED BY PASSION
Using a driver-centric centre console that is slightly tilted towards the driver by 7°, the console uses the BMW Live Cockpit 5.1-inch colour Black Panel and an 8.8-inch iDrive 6.0 touchscreen. The interface is clear and user-friendly, supported by advanced technology to deliver an extraordinary driving pleasure.
MORE THRILL M EDITION
235i xDrive Gran Coupé
Supported by M Performance, the BMW M235i xDrive Gran Coupé comes with a BMW B48 series 2.0-litre TwinPower Turbo four-cylinder turbocharged engine that is capable of outputting a maximum of 306hp and peak torque of 450Nm. The vehicle can sprint from 0-100km/h is just 4.9 seconds. With the various high performance M Sport equipment as standard, a previously unimagined high-performance driving experience is now possible, sparking endless possibilities.